News
Concrete Society Awards, 21 November 2018 - BRMCA Excellence in Customer Service Award
The Winners CEMEX for Northern Line Extension
CEMEX supplied a demanding concrete for the cast in-situ secondary 250 mm thick lining to vaulted gallery sections. Around 12 linear metres of tunnel were fully lined every 24 hours, establishing an outstanding performance rate in tunnelling construction. This was only possible with the thorough understanding of the concrete design and performance, as well as the teamwork between the temporary works department and the on-site operators of the formwork system.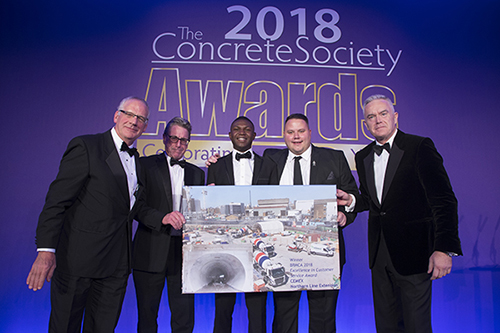 Left to right: BRMCA Director Chris Clear congratulating the CEMEX team of Peter Harwood, Francis Eni and Dennis Hennessy, along with Huw Edwards.
Highly Commended for Excellence in Customer Service went to Hanson for Royal Academy of Art extension and link-bridge and Tarmac for Waterloo International Terminal, Wessex Capacity Alliance Suburban 10 car.
Gateway Bridge Awarded Outright Winner at 50th Concrete Society Awards
Nominated by CEMEX UK Materials, the only long-span cable-supported bridge constructed primarily using in-situ concrete in the UK was the Winner at the 50th anniversary of the Concrete Society Awards. The bridge, which runs from Widnes to Runcorn, represents a significant advancement in concrete's application for bridge construction and is an exemplar of the material's flexibility. On announcing the winner at this year's ceremony on 21 November, guest presenter, broadcaster Huw Edwards said, "This is a modern masterpiece in concrete design and construction. It works as a big bridge should."